Let's meet at the Palm Springs Photo Festival. Valerie-Anne will be reviewing portfolios
on April 28th.



Gao Hui,Among Mountains and River #11, 2007, size 19.7 x 60 in.

From China to Paris, with love



The spectacular crowd at Photo Shanghai last year confirmed the love Chinese people have for photography. However, few Chinese photographers make it beyond their native country. We are excited to present Liu Ren and Gao Hui's first solo show in Paris this month!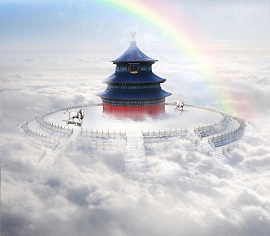 Sleepwalker, Temple of Heaven, 2007
Liu Ren
Born in 1980 in Qinhuangdao. Liu Ren is currently a professor at the Central Academy of Fine Arts in Beijing, where she graduated with a Master of Arts in Photography.
Using advanced software, Ren has created dream worlds drawn from her childhood memories and of modern day China, specifically Beijing architecture. You will find water tides and clouds are also recurring visual elements in Liu's work. Her pieces are colorful with fantastical and mysterious elements that only exist in dreams! Pure magic.


Among Mountains and Rivers #1, 2010
Gao Hui
Contemporary photography is not about reproducing the world but exploring it. Henan, in Central China, is known for it's beautiful scenery, and although it has been photographed time and time again, Gao Hui captures something special from those ancient mountains and rivers of Henan. Hui prioritizes an aesthetic feel over replicating the reality of his scene. It is almost as if his work comes directly from his imagination. Gao's use of symbols such as birds, monks, and figures carved in stone, encourage the observer to feel a connection between Man and Nature.
The spirit of Gao's series has been compared to that of Rembrandt's dramatic light configuration.

For Collectors
Visits of our space in Santa Monica on appointment:
331 22nd Street, Santa Monica, CA 90402
Tel: 310 451 4269 / 424 666 9987
The Paris Galleries are open Tuesday to Saturday,
14h-18h 30 and on appointment. Tél: +33(0)1 42 78 24 21.
10-14 rue des Jardins Saint-Paul, 75004 Paris - France.