At 10, rue des Jardins Saint-Paul for the duration of the Biennale, MAHER ATTAR, LE TEMPS SUSPENDU

Born in Lebanon, Attar is a professional photojournalist. He has covered the Lebanon wars, the issue of veiled women, and other social issues from a personal point of view. But the Arab world cannot be reduced to war and extremism. It is also an area of young and booming countries who are positioning themselves in the global region spanning from the Middle East to India, Indonesia and China.

In his project, Attar has chosen to photograph this new era. Skyscrapers arising in the desert. Bedouins devoted to their traditions and yet entering modernity at full speed. A world being born. In order to make this project, Attar chose to return to traditional photographic film and to an old camera using the process known as Lomography. Thus, his images seem timeless and represent this particular moment in time at the beginning of the 21st century suspended between an age-old past and the emerging future

November 12th, 2015 through January 17th, 2016




ART FAIRS

ART ELYSÉES: Thanks to all of you who visited our stand. Don't hesitate to ask for more information about the prints that you have seen.

FOTOFEVER PARIS CARROUSEL DU LOUVRE / STAND A7

Opening night: Thursday Nov. 12th, 6-9 pm
Opening hours: Friday and Saturday, 11 am-7.30 pm; Sunday, 11 am-7pm

To receive invitations click here
- for opening night, code PHO1
- for Friday, code PHO2




Ongoing at 14, rue des Jardins Saint-Paul
CLARK & POUGNAUD, THE SECRET

The works are conceived as a theater set on which the curtain has just been drawn. The unreal and mysterious places have more to do with evocation than representation. Through this new series, the artists invite the public to imagine and project themselves into the invisible: the back of each photograph is hiding a second, intimate one, carrying a secret. A "secret" kept between the artists and models which will only appear and be revealed to the eyes of the collector.

Until November 29th



OFF SITE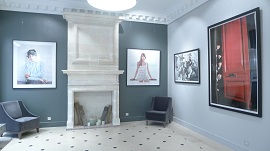 Jean-Marie Périer : Barnes
.A selection of Perier's most iconic prints are shown on the walls of Barnes International in the heart of Paris Golden Triangle, 122 rue du Faubourg Saint-Honoré, 75008 Paris.
Until January 13th, 2016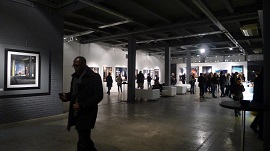 Clark & Pougnaud : Lille
The first major retrospective in France. For fifteen years, this couple of visual artists has been developing a singular body of work mixing painting and photography.
Until November 29th, 2015



Practical information
PARIS: 10-14, rue des Jardins Saint-Paul, 75004 Paris
Open Tuesday-Saturday, 2-6.30pm and by appointment.
+33(01) 42 78 24 21 - galerie@galerie-photo12.com
SANTA MONICA: 331 22nd Street. By appointment only.
+1 310 451 4269 - biko@galerie-photo12.com