DECEMBER NEWS & EXHIBITIONS
HAPPY HOLIDAYS!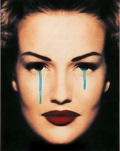 Giovanni Gastel
Ricerca Milano, 1996
PHOTOFAIRS SAN FRANCISCO / JANUARY 2017
JANUARY 27-29th, 2017, STAND C10
Photo12 Galerie invites you to see its presentation of artists including Jean-Marie Périer, Giovanni Gastel, Clark & Pouganud, Lee Leenam, and Gao Hui for PHOTOFAIRS SAN FRANCISCO's debut in California. After participating in PHOTOFAIRS SHANGHAI since its inaugural year, we are pleased to welcome you to our booth C10.
Email us here for passes.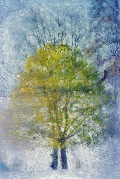 Nicolas Baghir
PNC # 741-106, 2016
NICOLAS BAGHIR / ALLIANCE FRANCAISE IN LOS ANGELES
We are pleased and excited to invite you to Nicolas Baghir's exhibition Visions III at Alliance Française Los Angeles.
The Photographer's second exhibition in LA will be on view until the end of January 2017.

LEARN MORE HERE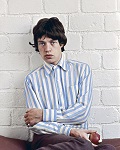 Jean-Marie Périer
Mick Jagger, Paris, 1966
JEAN-MARIE PÉRIER / BERLIN
I find in these pictures - after the forty years - not the past, but the present; that carefreeness that makes you ignore yesterday and tomorrow and simply live the virginal, vivacious, and beautiful today. Patrick Modiano
If you can make it to Berlin, see Jean-Marie Périer's retrospective A History of the Sixties at the Institut français de Berlin.
On view until January 13th, 2017.

MORE

Clark & Pougnaud
Nu bleu, 2014
CLARK & POUGNAUD / STRASBOURG
At the Museum of Modern Art Strasbourg, photographic works by Clark & Pougnaud are being featured in the exhibition

The Collector' Eye

. Marcel Burg, an important French Collector who recently passed away, had acquired several works since 2005 that are on view in the exhibition.
On view through March 26th, 2017.
MORE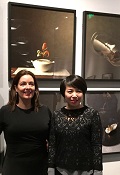 Marie Cecile Thijs
with curator Shi Hantao
MARIE CECILE THIJS / SHANGHAI
Stills in Motion, Being Still, Being Powerful: A personal exhibition organized for Marie Cecile Thijs under the auspices of the Consulate of the Netherlands in Shanghai at the Corso Como Gallery in Shanghai. On view until February 17th, 2017.

THE PRESS RELEASE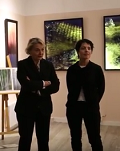 Sylvie Aubenas
and Anne Pharel
Paris, December 2016
ANNE PHAREL / THE INTANGIBLE
AT PHOTO12 GALERIE IN PARIS
Three prints from the Sub Noctem series have recently been acquired by the Bibliothèque Nationale de France as a gift from a donor. During the reception for the acquisition, Sylvie Aubenas, Head Curator at the BNF for the Département des Estampes et de la Photographie, discussed Anne Pharel's work: "Photography is an instrument that you have seized to restore your vision of the world, highly cerebral and very poetic... The fact that you use traditional film and color corresponds to an approach that returns towards the materiality of the image, which we support. [...] We need strong images like yours to add to our collections and I thank you for that."
Exhibition on view until February 11th, 2017.
THE EXHIBITION
Copyright © Photo12 Galerie , All rights reserved.