upcoming exhibition
ANJA NIEMI / THE WOMAN WHO NEVER EXISTED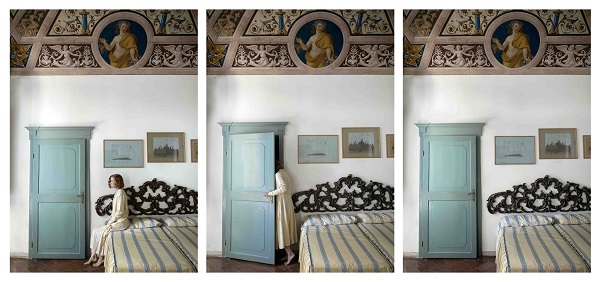 Anja Niemi. Last Act, 2016

The Woman Who Never Existed was inspired by the words of the pioneering Italian actress Eleonora Duse. Eleonora worked the international theatre stage alongside Sara Bernhardt in the early 20th century. In contrast to Bernhardt's outgoing personality, Duse was introverted and private, rarely giving interviews. She once famously told a pushy New York journalist, that 'away from the stage I do not exist.' Niemi takes on the role of a fictional character visualized after reading Eleonora's words. The Woman Who Never Existed tells the story of an actress who only exists in front of an audience, when no one is looking she starts to disappear.
Similarly, Niemi works alone, photographing, staging, and acting out the characters in all of her photographs.
The Woman Who Never Existed premiered at Photofairs San Francisco (27-29 January 2017), it will open at Shoot Gallery in Oslo (9 March - 30 April), Photo 12 Galerie in Paris (16 March - 22 April); and The Little Black Gallery in London (25 April - 27 May)
MARCH 16th THROUGH APRIL 22nd

fairs
UPCOMING / MIA PHOTO FAIR MILAN
MARCH 10th-13th, 2017 / BOOTH 26A
Will be on show works by Eric de Ville, Kacper Kowalski and Gao Hui.
Contact us for invitations.

LEARN MORE ABOUT THE FAIR
PAST / PHOTOFAIRS SAN FRANCISCO
JANUARY 27-29TH, 2017.
See the prints exhibited at PHOTOFAIRS San Francisco this January by photographers Jean-Marie Périer, Giovanni Gastel, Clark & Pougnaud, and a video work by Lee Leenam. Exhibiting in California for the first time, Kacper Kowalski's photographic work had an especially warm reception.
Image: Kacper Kowalski, Depth of winter #32

SEE WORKS FROM THE FAIR

off site
NIKOS ALIAGAS / L'ÉPREUVE DU TEMPS
THROUGH FEBRUARY 17th
At Palais Brongiart and on the outer gates of the Paris Stock Exchange, an exhibition for the benefit of the Gregory Lemarchal Association .

museum acquisitions
ERIC DE VILLE / BABEL
New acquisition by the Bibliothèque Municipale Lyon. The second library in France, with over three million, manuscripts, incunabula, prints, books, and photographs.
ERIC DE VILLE / BABEL BY NIGHT
New acquisition by Musée départemental de Flandre, Cassel, Hauts-de-France.
Copyright © Photo12 Galerie , All rights reserved.