ANNOUNCING THE OPENING OF
PHOTO12 GALERIE SHANGHAI
AT 203 KANGPING ROAD, N36
XUHUI DISTRICT, IN THE FORMER FRENCH CONCESSION

Giovanni Gastel, Dior, 1989

xxxxxxxxxxxxxxxxxxxxxxx

Didier Fournet, Paris, Quai au Fleurs, 2017

xxwwwwxxx

Giovanni Gastel, Portrait with Flowers, 2016

Photo12 Galerie is pleased and excited to announce the opening of its third outpost in Shanghai. Located in the former French Concession at 203 Kangping Road in the Xuhui District, the new space joins Photo12 Galerie's locations at 14 rue des Jardins-Saint-Paul, Paris in the heart of the historic district Le Marais and Los Angeles at 331 22nd Street in Santa Monica.

Founded in 2005 by Valérie-Anne Giscard d'Estaing, Photo12 Galerie shows a sophisticated mix of contemporary conceptual photography, artistic work by the world's most renowned fashion photographers, and documentary photography featuring some of the most iconic figures, historic moments, and perspectives of the last century. Dedicated to showing a mix of established and emerging artists, the gallery focuses on exploring culture through photography and its links to new media and film, representing an international roster of photographers based in Europe, the United States, and Asia. The opening of Photo12 Galerie's newest location in Shanghai reflects a longstanding commitment to cultural dialogue, with the gallery showing both Western photographers in Asia and those it represents in China in the west.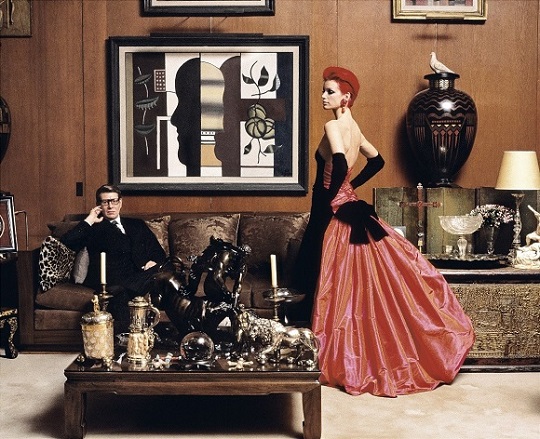 Jean-Marie Périer, Yves Saint-Laurent, Sibyl Buck, Paris, October 1995

First immersing itself in the Shanghai scene at the inaugural edition of PHOTOFAIRS Shanghai in 2014, the gallery has shown a robust selection of international artists there. In 2014, a portrait of Yves Saint-Laurent taken by Jean-Marie Perier—whose images of the world's most celebrated musicians, fashion designers, and film stars that have graced museum walls and magazines across the world—was selected as the officias the official photograph for the fair's VIP invitations, and in 2015 Giovanni Gastel's Cernobbio, Untitled (Parrot), 2008 was selected as the fair's official image. Gastel, a poet and contemporary artist who is staff-photographer at Harper's and Vogue Italia and counts as one of Italy's most famous fashion photographers, will be present at this year's edition to sign catalogues from his major 2016 retrospective Quaranta Anni di Fotografia, curated by Germano Celant, and attend at a collector's event held in conjunction with the fair.

The gallery also shows a roster of talented emerging artists such as Ting Ting Wang, a Chinese photographer living in Paris whose still lifes and portraiture, printed on a variety of papers to enhance textural effects, jump between the mediums of photography, drawing, graphic design, and fashion to craft visually stunning asssemblages.
Another, Nicolas Baghir, shoots abstract figurative photographs using traditional film and self-designed filters that are enlarged without being retouched. An homage to painting as well as black-and-white photography, his works are a study of pictorial beauty, with a subdued, painterly quality that exists in a tangible space outside of direct photographic representation and the fantastic elements of painting‪. The gallery's array of decidedly contemporary artists are recognized in publications and in major institutional exhibitions internationally.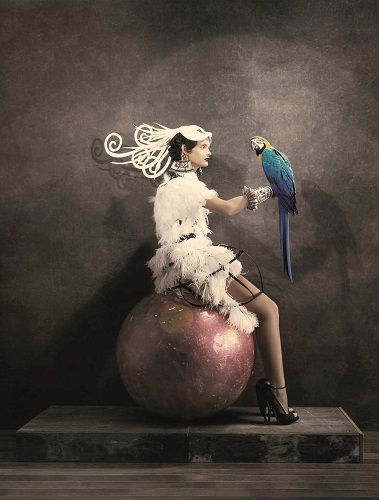 Giovanni Gastel, Untitled, Cernobbio (Parrot), 2008

A "small yet sophisticatedly decorated and cosy space," according to Photography of China, collectors are welcome to visit Photo12 Galerie Shanghai's by appointment. Contact shanghai@galerie-photo12.com or Li Song at +86 15026603703 for more information or to schedule a visit.

About the owner: Valerie-Anne Giscard d'Estaing has been in the business of promoting of arts and culture in its many forms to the world throughout her career. She served in the French Ministry of Culture throughout the 1970's before founding her own publishing company Compagnie12 in 1980. Splitting her time between Santa Monica and Paris, the gallerist also works as an art advisor active on the international market. Photo12 Galerie regularly participates in art fairs in including PHOTOFAIRS Shanghai, London, and San Francisco, Art Élysées, Fotofever, and Paris Photo, organizes regular exhibitions at its gallery space in Paris, and co-organizes exhibitions with museums, foundations, and other cultural institutions internationally.
Unsubscribe
Copyright © Photo12 Galerie , All rights reserved.