ERIC DE VILLE / BABEL
SEE PRINTS ON ARTSY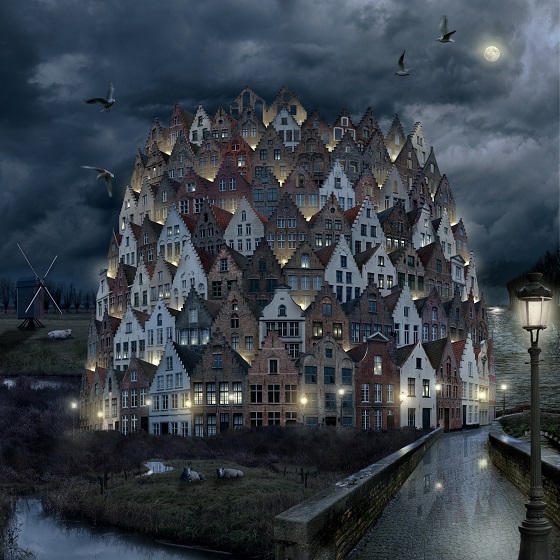 Eric de Ville, Babel by night, 2012
Fascinating and menacing at the same time, Eric De Ville's Towers of Babel represent the challenge of our modern societies: humans build increasingly arrogant and excessive cities but must work together to find a response to the management of both their territory and natural resources. The photographic vision of Eric de Ville simultaneously explores themes of biodiversity and urbanism, diversity of people and the multiplicity of culture, and the precarious balance of nature and the city. The Tower of Babel also arises as a metaphor for the vanity of man and our ability to question our present.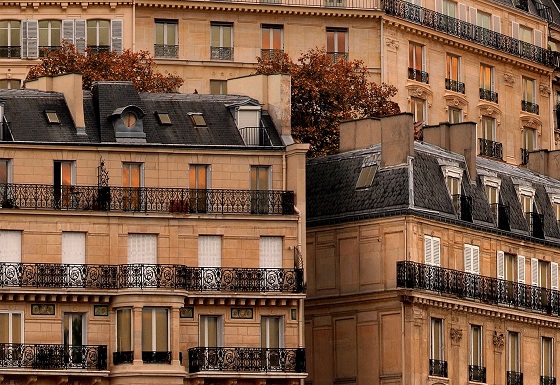 Eric de Ville, Babel en novembre. 2014 (Close-up)

Eric de Ville is Belgian. He began his career specialized in automobile, cosmetic, and jewelry photography and quickly began to receive requests to photograph monumental luxury houses. The necessary precision, regard for material, and feeling for light required for composition compelled him to study digital techniques, which enabled him to make artistic works through rearrangement and subsequent reconstruction of his shots. By replicating and manipulating the images ad infinitum, de Ville's work takes on purely imaginative and artistic dimensions, revealing the surreal through the creation of visual worlds that exceed the descriptive objectivity of a traditional photograph.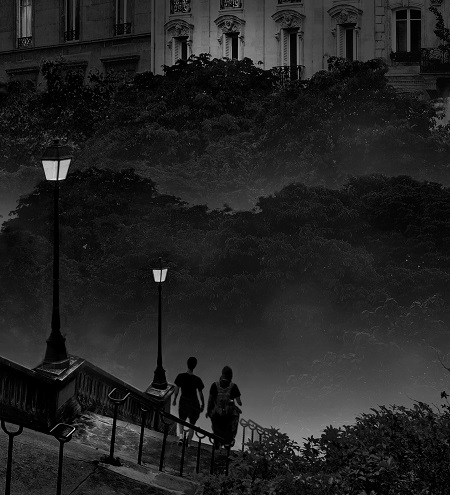 Eric de Ville, Babel en Black and White, 2016 (close-up)

The photographic approach of Eric de Ville is similar to the work of a painter. Indeed, contrary to a classical photographer who photographs a subject he sees, choosing its framing and waiting for good light or the precise moment, de Ville first thinks of the theme or subject that he will interpret. His subjects, which are chosen from his daily reality, are events which hold his attention whether they emerge from the news, history, or art. Once the theme is chosen, he thinks of the way he can interpret it through his personal sense of discernment and awareness. Always meticulous about detail and the quality and the accuracy of the light, de Ville's work is not a simple "pasting" of various elements, but a composition made with his sensibility in order to create a virtual reality that never leaves the viewer indifferent.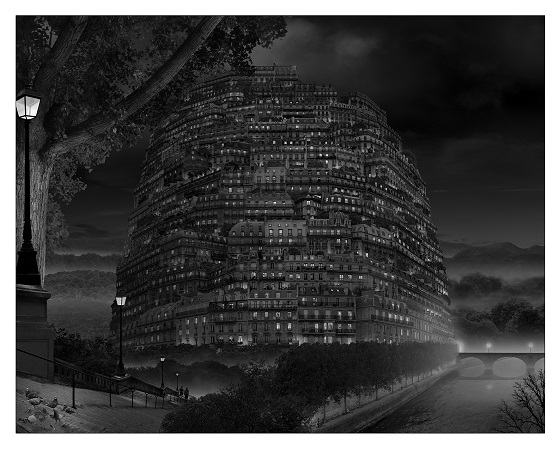 Eric de Ville, Babel en Black and Night, 2016

From Brueghel the Elder to Gustav Doré and M.C Escher, the allegory of human vanity - an impossibly tall tower erected in Mesopotamia - has fueled the imagination of artists for centuries. For de Ville, the story of a human race once united and then divided for endeavoring to play God has lived on throughout the centuries, from the time of cathedrals to the beginnings of industry in the era of globalization, not quite reaching the heavens but united once again in visual imaginary space to watch the seasons pass in peace.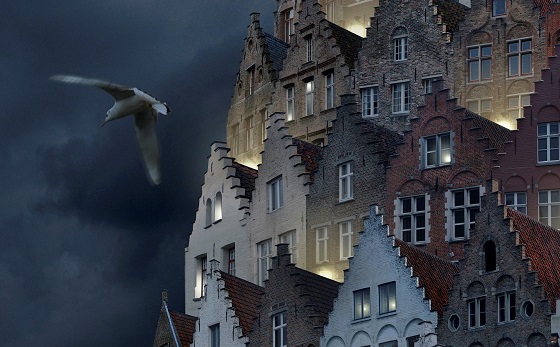 Babel by night, 2012 (close-up)

Photographs from De Ville's series Babel have been acquired by numerous collections including Palais des Beaux Arts – La collection RTBF/De Canvas collective (Brussels, Belgium), Ixelles Museum, (Brussels, Belgium), Museum aan de Stroom (Antwerp, Belgium), Musée départemental de Flandre (Lille, France) and Library of Lyon (Lyon, France).
. The photographer has enjoyed exhibitions including A poils et A plumes (Departemental Museum of Flanders, Cassel, 2017), Cercle Royal Gaulois Artistique et Littéraire (Brussels, 2015), Babel (Galerie Photo12, Paris, 2014), L'art belge, du rêve à la réalité (Espace Bellevue, Biarritz, 2014), Cercle Royal Gaulois Artistique et Littéraire, Bruxelles, Belgique, OFF (Tour & Taxis, Brussels, Belgium, 2014), Art Magna (Galerie Brenart, Brussels, Belgium, 2014), Babel, Centre culturel Le Botanique (Brussels, Belgium, 2013), Espace Sablon (Brussels, Belgium, 2012), Eric de Ville (Michel Rooryck Gallery, Courtrai, Belgium, 2012), Expo d'été (Espace Art 22, Brussels, Belgium, 2012), Babel (Palais des Beaux Arts de Lille, 2012), and L'Art pour l'Accueil (Galerie Pierre Bergé, Brussels, Belgium, 2012).
STILL AVAILABLE
Most of the prints of the series are sold out.
Available:
Babel by night, 2012, size 145 x 145 cm - 57 x 57 in, ed. 5/8, price 6 000€ (last print available)
Babel en novembre, 2014, size 120 x120 cm, 47.2 x 47.2 in, ed. 4/8, price 5 000€ - size 150 x 150 cm, ed. 3/8, 7 000€
Babel en Black and White, 2017, 84 x 105 cm, 33 x 41.3 in, ed. 4/8, price 3 000€; size 108 x 135 cm , 42.5 x 53.2 in, price 5 000 € - size 132 x 165 cm, 51.9 x 64.9 in, price 7 000€.
Contact us for viewing and acquisitions:
Paris: Camille Reynard
Los Angeles, Valerie-Anne Giscard d'Estaing
Shanghai, Li Song
Copyright © Photo12 Galerie , All rights reserved.