When Giovanni Gastel first encountered photography in the 1970's, the medium was considered a legitimate art form and discipline and had begun to be collected in the world's museums and galleries alike. At the time, fashion photography—which was created and found in a number of contexts but had hitherto been considered a practical, advertorial, and commercial endeavor—was also beginning to gain status and recognition in the art world as work by artist's such as Man Ray, Guy Bourdin, Irvin Penn, and Erwin Blumenfeld introduced their surreal vision to publications en masse and thus redefined the photographic canon.
Born in Milan in 1955 to Giuseppe Gastel and Ida Visconti di Modrone, Gastel's first exposure to the arts came through his uncle and renowned film maker Luchino Visconti. His career had its first turning point when he met his future agent Carla Ghiglieri in 1981 and began to work for famous magazines such as Annabella, Vogue Italia , Mondo Uomo , and Donna. Like Bourdin, Gastel maintained a constant artistic output throughout his career in fashion and in 1997 his arrival came when the Triennale di Milano dedicated a solo exhibition to him curated by the contemporary art historian Germano Celant.
Like his predecessors, the artist's work is rife with visual allusions to surrealism but the artist's central concern is the poetic: "What fascinates me about photography is that it has no relation to reality," says Gastel, "It is the interruption of the constant flow of time. From eternal movement, life, to eternal immobility. It alludes to the real to create a real parallel." Like a poet, the artist is primarily interested in achieving a concise structure of form within an image that will be briefly experienced, but imbue meaning to the viewer in its reflective unreality.
In Italy his reputation is on par with major international fashion photographers such as Annie Leibovitz, Mario Testino, and Mario Sorrenti. Monica Belluci, Naomi Campbell, and Linda Evangelista have posed for the artist's sensitive and unique eye. He works regularly for Glamour (Italia), Vanity Fair (Italy) ELLE Decor (Italia), and is one of the officially appointed staff photographers for Harpers International Magazine (US).
Palazzo della Ragione Fotografia/Milan presented a major retrospective of his works curated by Germano Celant entitled "Quarana Anni di Fotografia" in 2016. His exhibition "Donna" was held concurrently at Photo12 Galerie in 2016. "Canons of Beauty" is his first exhibition at the Lumiere Brothers Centre for Photography in Moscow and runs from March 16th to May 9th, 2017.
SEE PRESS ARTICLES ABOUT GASTEL HERE.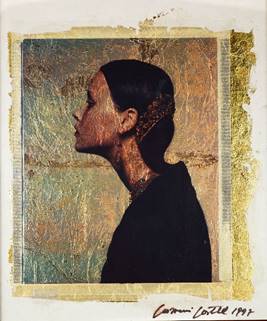 Polaroid Oro 1, 1997. Polaroid film on gold leaf