"Do you fly?" asks Kacper Kowalski when I meet him, "I ask because people who fly see the world differently."
The advent of aerial photography has allowed many a photographer to conceive of new angles from which to shoot a subject and reveal another dimension. However, as an ardently devoted pilot for life, photographer Kacper Kowalski is uniquely posited to do what he enjoys most: rediscovering and capturing the world from above through his distinctively-trained artistic eye.
Born in 1977, Kowalski is a graduate of the Technical University of Gdańsk, where he studied architecture. After having worked in that field for four years, he quit to devote himself entirely to flying and photography. Both a pilot and a photographer, he takes aerial pictures of natural and urban environments of his native Poland.
Kowalski shoots his images while flying in either a paraglider or open-hull gyrocopter. The photographer pilots these crafts himself, typically while flying at heights around 500 feet above the ground. By self-piloting and flying at heights lower than typically used in aerial photography, Kowalski enables himself to find images in the process of flying rather than conceiving of a shot and using flight to capture it.
His sense of visual perspective is informed by his training and professional experience as an architect. Inclined to explore how human activity spatially relates to the natural environment from a bird's-eye view, Kowalski's keen attunement to the structural lends itself to the formally abstract in his aerial photography.
"When I'm flying, I find the forms, features, shapes, symmetry, compositions, and drama—just as I would draw them in blueprints…I see the ground through the architect's eyes. I see how humans plan, I see how nature reacts to our actions, I see order and oncoming chaos….I like the little moment when people don't know exactly what's in front of them. Sometimes the object in the frame may feel somewhat familiar but it's not immediately recognizable as a bridge or a field or something they've actually seen a thousand times.
-Kacper Kowalski
He has received numerous awards, including the World Press Photo award (2009, 2014, 2015), the Picture of the Year International POYi award (2012, 2014, 2015, 2016), and many others. His work has been featured in the publications Conde Nast Traveler, Juxtapoz Magazine, New York Magazine, The New York Times, and many more. His first photography book, Side Effects, was published by Leica in early 2014. Photographs from this project are shown all over the world. He lives and works in Gdynia, Poland. His first exhibition at Photo12 Galerie will be held in November 2017. In 2017, Kowalski's work will also be exhibited at the National Museum of Photography's International Biennale of Photography (Bogota Colombia) and the Landskrona Foto Festival (Landskrona, Sweden) before a book on his series Over is published at the end of the year.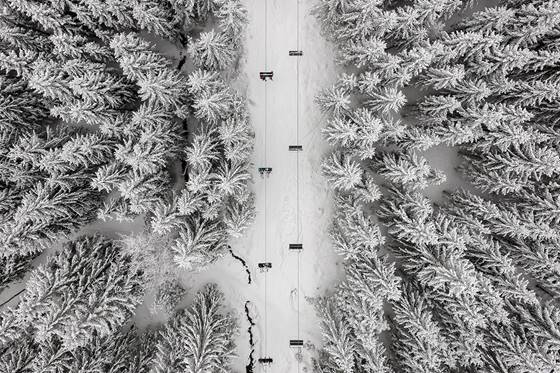 Depth of Winter #32, 2013. Archival pigment print. Series Side Effecs