ART FAIR / PHOTO INDEPENDENT LA
LENNETTE NEWELL / SELECTED WORKS FROM THE SERIES ANI-HUMAN AND SEDUCTION
APRIL 21ST THROUGH 23RD, 2017 AT THE REEF LA, BOOTH 113
1933 SOUTH BROADWAY, LOS ANGELES CA 90007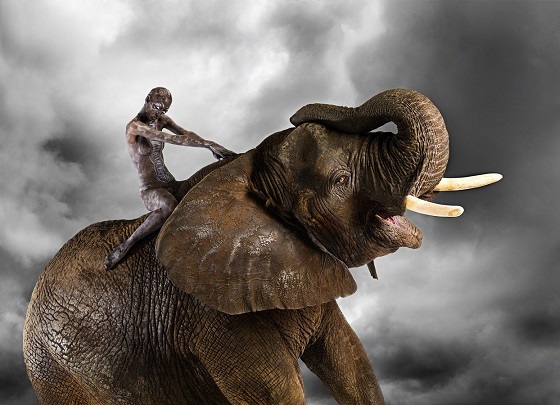 Girl on Elephant. Archival pigment print on Hahnemühle Fine Art paper.

"I think that we forget our origins as animals ourselves,"

states photographer Lennette Newell,

"We need to reconnect with nature and we should be closer to the animals that live in this world."


Born and raised on a ranch in the heart of the Nebraska hills, Lennette Newell has always preserved her connection to animals. Raised by a veterinarian father, she was taught the scientific ideas behind various animal mannerisms at a young age and soon learned to associate with them on a closer level by developing a precise understanding of their body language and modes of personal expression. These childhood memories became the fabric of her artistic inspiration and production.
She works with studio models who have been body-painted to resemble animals and the animals they resemble themselves. Her photographs can shock at first as the viewer encounters a visual situation revealing both a proximity and intimacy between her subjects that could not occur in nature. It is more shocking to learn then that Newell's images are realized during an intensive 4-day process of studio preparation and shoots in which the model and animal pose alongside another without any physical barrier.

Rayures dans la nature, making off, 2015

In her work, the animal is the central subject matter. Their mannerisms, physicality, and character occupy the scene imposingly and relegate the human to a second plane. Newell upsets our traditional codes of representations and perceptions. The human must be accepted by the animal, resemble it, and surrender to it. The bodies of men and women painted in the colors and motifs of the skins, coats, and scales imitate the grace and elegance of the wild beasts. The photographer manages to capture moments of perfect harmony through a look, a gesture, or simple interaction between these two beings who are thus envisaged on an equal plane. Freed from imposed hierarchies and established natural order, a dialogue emerges between her subjects, who sometimes seem to merge.
For Newell, the project is a realization of her lifelong connection to nature. "I used to fantasize about being the animals that my father used to treat, and now with this project I am a little closer" she laughs.
Newell's lifelong commitment to the animal kingdom has resulted in a body of work celebrating the beauty of species diversity while raising social awareness for wild habitat preservation. Her career as a commercial photographer has garnered many accolades, with photos gracing many pet care brand ad campaigns and packaging including Iams, Milk-Bone & Meow Mix, earning international recognition.
Her photographs have been exhibited in numerous locations including the 3rd International Biennial of Fine Art and Documentary Photography at the Municipal Heritage Museum in Malaga, Spain; Dolores Art Volterra, Italy, Galerie Bestregarts, Frankfurt, Germany, and Photo12 Galerie in Paris, France in 2015.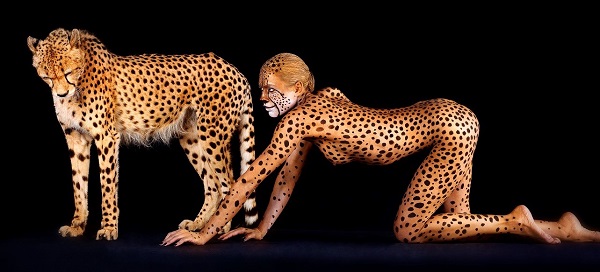 Cheetah 327. Archival pigment print on Hahnemühle Fine Art paper

Copyright © Photo12 Galerie , All rights reserved.