GERED MANKOWITZ / EXHIBITION SPOTLIGHT
BACKSTAGE / THE ROLLING STONES
AT PHOTO12 GALERIE PARIS
THROUGH JULY 22nd, 2017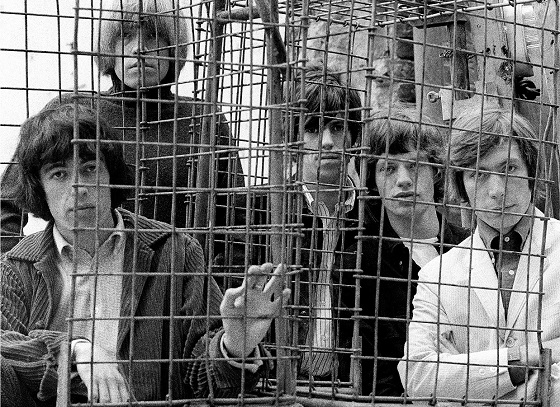 Gered Mankowitz, Caged, Ormond Yard, London, 1965

Photo12 Galerie is pleased to announce an exhibition of veteran British music photographer Gered Mankowitz's photography from 1965-67 entitled Backstage: The Rolling Stones. Taken at the height of their early British fame and during their fourth American tour, the exhibition and book produced in conjunction feature a combination of iconic material and previously unpublished images.

Gered was with the band constantly between 65-67 and this unique collection of photographs offers an intimate insight into the personalities of the Rolling Stones as they became world famous. He became part of the Stones' inner circle and was treated as another member of the band. This gave him complete and unrestricted access to their on and off stage life. Starting in 1965 their first session would result in an album cover for Out of Our Heads, and several subsequent EP sleeves, sheet music covers, press portraits and even the band's passport photos. The success of this first shoot cemented the band's trust and in autumn of that year he joined them on their fourth North American tour. The team criss-crossed America as the band played live for six weeks, ending the visit at RCA studios Los Angeles where they recorded tracks for the Aftermath album. The exhibition features well known images from all of Gered's major sessions with the band, including key album cover sessions for Out of Our Heads, and the Between The Buttons, together with a selection of little known and unseen photographs, in dramatic large formats, some up to six feet high.

Mankowitz is the son of the author, playwright and film writer Wolf Mankowitz and Jungian psychotherapist Ann Mankowitz. He was encouraged to take up photography as a teenager by film star and family friend Peter Sellers and apprenticed under legendary photographer Tom Blau at his studio Camera Press Ltd. in London. When he was just 18, Gered was introduced to the Rolling Stones by their manager Andrew Loog Oldham after photographing Marianne Faithfull, another Oldham protégé. "Andrew thought I had a rawness, a quality to my photography that would somehow work with the Stones." says Gered, "I felt pretty confident although I honestly didn't really know what I was doing at first - I believed that you could just do it. I understood the basics of photography of course: I was processing my film, I was printing my pictures; I was doing it. But I just didn't have the experience or the sophistication of some other people. But I loved showbiz and the music scene just seemed to me to be the most perfect arena for me to play in. It was showbiz; it was young people; it was great music; full of energy. It seemed just like a fantastic place to be in!"
Exhibition viewBackstage: The Rolling Stones,2017

Through the 60's, Gered continued in the music world working with Oldham at his famous Immediate label, and with many other major artists including Jimi Hendrix, Free, Traffic, The Yardbirds, The Small Faces and Soft Machine and in to the 70's with Slade, Gary Glitter, Suzi Quatro, Sweet, Elton John, Kate Bush, Eurythmics, ABC, Duran Duran and many others. At the end of 1963 Gered opened his first studio, at 9 Masons Yard in the heart of London's West End. On one side was the infamous disco "The Scotch of St.James," hangout of the pop glitterati of the time, and on the other the art gallery "Indica", partly financed by The Beatles and where John Lennon met Yoko Ono.

Mankowitz has been the subject of major solo and group exhibitions at the Photographers' Gallery (London), National Portrait Gallery (London), San Francisco Art Exchange (San Francisco), Torch Gallery (The Netherlands), Tres Hombres Gallery at (Halmstad), the Richard Goodall Gallery (Manchester), Govinda (Washington DC), Cromwell and Ward Gallery in Dean Street (London), the City Museum Portsmouth, Galerie Rose (Hamburg), and Fine Arts in Madison Avenue (New York City). Publications on Gered's work include Masons Yard To Primrose Hill, I-Contact, Out Of Their Heads, Hit Parade, and Satisfaction.
He contributes regularly to The Sunday Times Magazine and Mojo magazine as well as shooting sessions with musical artists such as Oasis, Verve, Catatonia, Kula Shaker, Embrace, The Buena Vista Social Club, Snow patrol, The Bravery, Dukes Spirit as well as many others.
Mankowitz lives in Cornwall, UK, continues to produce photographic work, and teaches at University College Falmouth. In 2016, he was awarded the distinction of an honorary Fellowship to The Royal Photographic Society.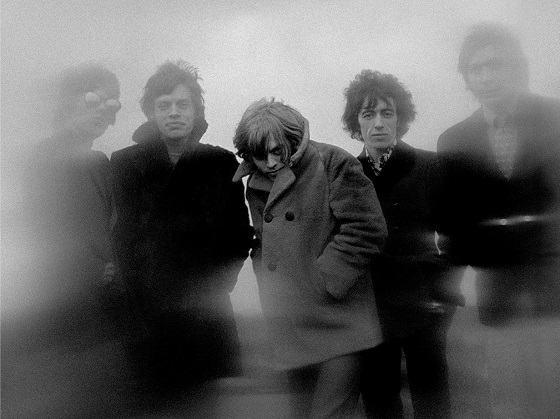 Betwwen the Buttons session. Primrose Hill, London, 1966
EXHIBITION APRIL 28TH TO JULY 22ND
PHOTO12 GALERIE PARIS
14, rue des Jardins Saint-Paul, 75004 Paris, France
Open Tuesday - Friday, 2-7pm
Saturday 12am-7pm, and by appointment
T.+33 (0)1 42 78 24 21
galerie@galerie-photo12.com
Copyright © Photo12 Galerie , All rights reserved.