EXHIBITION SPOTLIGHT
KACPER KOWALSKI / OVER
OCTOBER 26th, 2017 THROUGH JANUARY 20th, 2018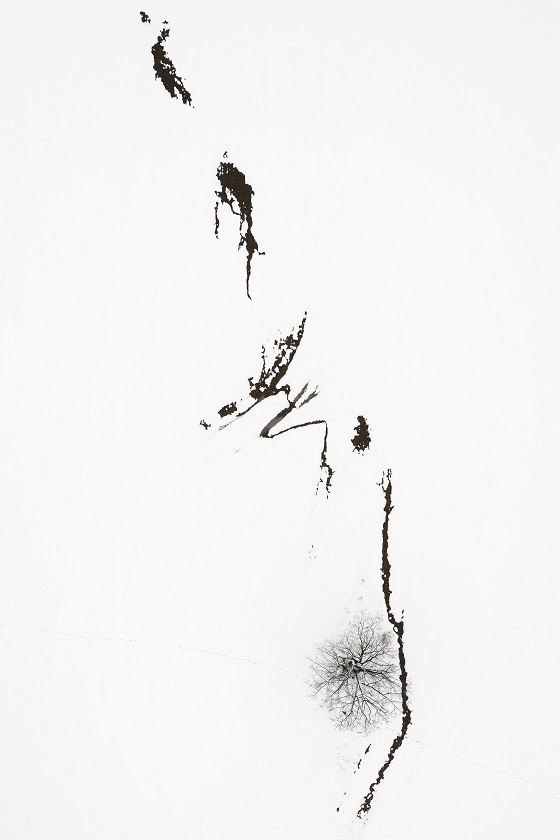 Kacper Kowalski. Over #51
Fresh off the heels of participating in the International Biennial of Photography at The National Museum of Photography in Colombia in May and the Landskrona Festival in Sweden this September,

Photo12 Galerie

is pleased and excited to announce Kacper Kowalksi's exhibition Over, on view at the gallery's Paris location through January 20th, 2018.

On November 9th at 7:00pm, the artist will be present at the gallery for a book signing and artist talk for the release of his book Over in conjunction with the exhibition. RSVP here.



Over

is a series of aerial photographs taken from a gyroplane flying over the Polish countryside during the winter. Kowalski has been an aviation enthusiast for more than 20 years, with a special passion for paragliding and gyroplanes. In a world of drone photography, Kacper embodies the difference between machine and man, between the automated processes enbled by technology and a set of eyes presently watching from above. He began his training and subsequently entered professional life as an architect. As a lifelong pilot, however, Kowalski was unable to resist the air for long and left his architectural firm to pursue a life taking pictures in the sky.

His training lent itself to his art: as a former architect Kowalski's visual acuity reveals something beautifully composed about the structure of nature itself in each photograph. Technically gifted and endowed with an artist's eye, Kowalski's work transcends the airplanes that preceded him and the drones that follow in the field of aerial photography. The minimalism of his photographs reflects the sheer simplicity of a man soaring through the air facilitated by the least amount of necessary equipment, searching for images that can only be seen by one who dares to traverse the horizon.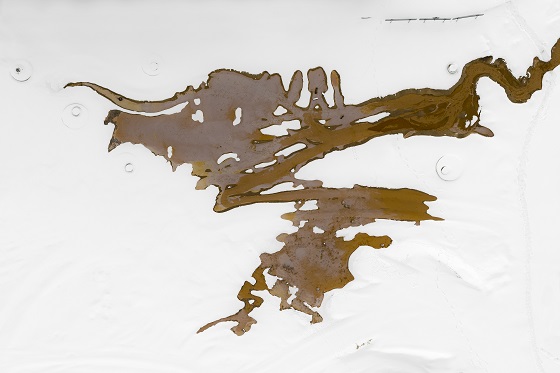 Kacper Kowalski. Over #13, 2016

Kowalski is part of a tradition of aerial photography initiated by Edward Burtynsky, George Gerster, George Steinmetz and Yann Arthus-Bertrand—and although his work is reminiscent of theirs in methodology and scale, painterly composition, subject matter exploring a landscape altered by industry, and an absolute devotion to nature—Kowalski has quickly emerged with his own language. Kowalski shoots his photographs directly overhead, flattening the perspective and turning the resulting image into something resembling a canvas. The precise yet irregular lines demarking the landscape below seem to remind the viewer of Gaudi's observation "There are no straight lines or sharp corners in nature." Like the brushstrokes of Pierre Soulage's all black paintings, Kowalski's almost monochromatic winter compositions unveil the abstract geometrical beauty of structure fixed in motion.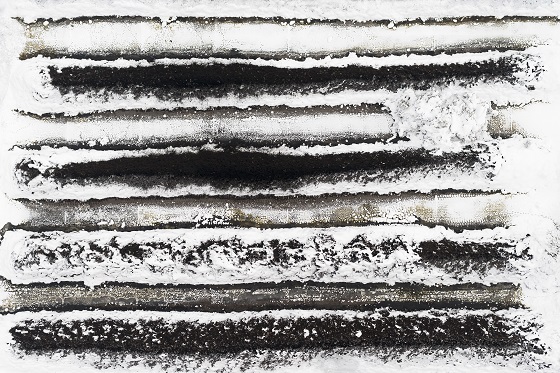 Kacper Kowalski, Over #22, 2016

"With no horizon in the fog, there was only the here and there. I went into a trance. I followed a shadow, then another. Structures and forms guided me... I felt at peace"


Kacper Kowalski

Read about Kacper in the NYTimes, Wired, Architectural Digest, his most recent exhibition at the Landskrona Foto Festival, and the Press release for the upcoming exhibition here.
EXHIBITION OCTOBER 26th, 2017 THROUGH JANUARY 20th, 2018
PHOTO12 GALERIE
14, rue des Jardins Saint-Paul, 75004 Paris
Open Tuesday - Saturday, 2 - 7 pm and by appointment
galerie@galerie-photo12.com
Tel: + 33 (0)1 42 78 24 21
Copyright © Photo12 Galerie , All rights reserved.